WESTERN AUSTRALIA IS ON THE BALL
Disability public toilets or bathroom facilities seem to be the fashion for this year and it's great to see Western Australia leading the way on this.
The state government & shires are working together to build more accessible disability public toilets with in-built showers for people.
This great idea has already begun and is going all over the state and right around Australia.
And it is available for anyone that needs help with their carers, which means, this is great news because you can go out more and longer.
It seems like something like this has taken forever but as they say, better late than never!
These facilities will be large enough to accommodate two carers and they have an adjustable change table, a hoist built into the ceiling, a toilet and a seated shower.
There are currently about seven facilities already in WA with plans to build another 17 around the state and are being constructed at the moment.
The Changing Places facility is at Sorrento Beach, West Coast Hwy, which is a popular place to visit for locals and, this facility will also be a great drawcard.
Hillarys Boat Harbour is already a well-known go-to spot for a great day out in that area.
This is what Mayor Jacob said when the changing places facility opened;
"The City of Joondalup is committed to enhancing its reputation as an inclusive City for all; a City that will continuously work to improve access to information, facilities and services for all residents
and visitors,"
"We hope this facility encourages people with disability to enjoy this spectacular and popular section of our coastline this summer."
HOW TO GET ACCESS
Changing Places facility is a brilliant idea and all you need to do get access is to have a Beach wheelchairs.
Basically, anyone with a companion card can access the Changing Places facility but, you also have to apply for the electronic key.
Either go to one of the City Customer Service Centres at 90 Boas Avenue, Joondalup or 15 Banks Avenue, Hillarys.
The ole CoJ (excuse the pun) is wonderful with our elderly and have been for many years and now they seem to be spending on disability, which is great news!
The City can also be emailed if you prefer to register for a key in that way.
If you're reading this blog and know of another one that has been completed then drop us a Line and share this blog on your Facebook and spread the love so everyone gets to hear about it.
LOCATION
The Changing places facility is to the left of Hillarys Boat Harbour and to the right of Sorrento Surf Life Saving Club.
To find where the facilities have already been built, go to the Beach wheelchairs website locator.
DID YOU KNOW MOMENT
Hillarys Boat Harbour also has a Beach wheelchair available at the family swimming section.
Beach wheelchairs are a great invention that allows a person to be able to get into the water safely and the beach is usually manned by a highly skilled Surf Life Saver.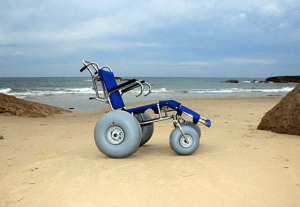 The beach wheelchair is available for use so don't be shy & get yourself out there one of these days.
Getting access to one is easy because all you have to do is call your local council and ask them where your nearest beach wheelchair is.
Beach wheelchairs are dotted right around the coastline of Australia.
GO PERTH!